Not much happening on this side of my site and I've been too lazy to improve it. Go to Facebook if you want to interact with me.
---



go to bio page for more detailed bio info and..........
audioclips
---


Played on American Idol II contestant
Joanna Martino's album.
Also been doing some live dates with her, including a TV show... youcan watchithere.
---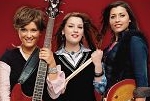 Barlow Girl
Their debut album-- another Otto Priceproduction.
Newly signed to Fervent -- threesisters who
write & arrange their own songs, andplay their instruments.
The album has soldover 250,000 units,
is on the BillboardTop 10 Christian Album chart
and the song "Never Alone"
ranked number1 on the Christian CHR and Rock charts.
---
---
---
NEW
Drum Dial /Tension Watch
What's deal with this thing?
Get the scoop.
---

Gorgeous!
SolidBirdseye Snare Complete
Get the story behind this drum here:
See the shells for 2 of the solid ply snares I have built-- BIRDSEYE or WALNUT
Take a look at one of my first custom snares and themistakes :-)
click here
---

---


Always wondered what size drums to buy? Or what kind of wood theyshould be? Check out how these factors effect the sound of a drum anddecide for yourself which is best for you.
---
RMMP Charity
Snare Drum Raffle
The rec.music.makers.percussion newsgroup auctioned off 3 snare drumsto benefit Good Works homelessshelter.
The raffle is over and was a HUGEsuccess. We raised over $1800!

---